What do you think of Love Triangles? Do you love them? Do you hate them? What is your favorite love triangle from a book or a series?
I enjoy love triangles in a story. As long as the love triangle is well-developed and believable, I feel it adds excitement, and makes me feel more invested in the outcome. It's always fun to root for my favorites, and I think it's evident with the development of team banners on many blogs, that many readers enjoy a good love triangle, and feel the same as I do. Yes, it's disappointing, and sometimes even downright upsetting when our favorite person doesn't get chosen. However, that's life. We win some, we lose some, and we don't always get what we want. My favorite love triangles are when I can feel the angst, turmoil, and indecisiveness of the main character. I enjoy being able to relate to the main character, and understanding why they are having trouble choosing between the two love interests. My favorite series that contains a well-executed love triangle is The Infernal Devices Series by Cassandra Clare. I love Tessa, Will, and Jem. This love triangle is done really well because I can relate to Tessa, and can see why she has so much trouble picking between these two guys. I'm team both! Jem is sweet, sensitive, compassionate, artistic, and oh so good. Will is sexy, sarcastic, swoon-worthy, and the chemistry he and Tessa feel for one another is intense. Personally, I think she'd be lucky to land either guy, and they her. I dislike love triangles that feel forced, aren't well-developed, and end without the character having to make a decision. I don't like when an author makes a love triangle where one of the guys dies at the end, cheats, or becomes a jerk, so readers end up disliking him, etc. In other words, I want the main character to choose between the love interests, and not fate, or some outside force to choose for them. I'm curious, out of the Infernal Devices Series, who do you think is the better choice for Tessa? Will or Jem?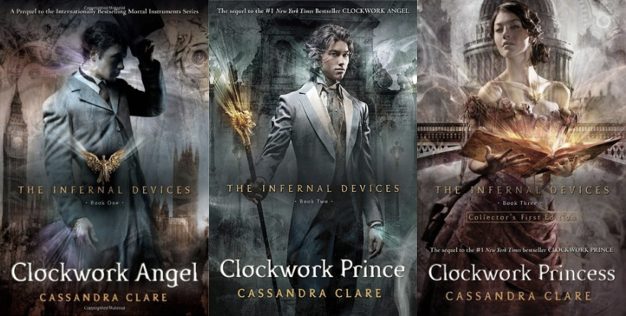 Love triangles...I really enjoy them if they are played well. The Twilight series! Loved it! I loved the way Jacob was there for Bella, when Edward was not. I fell in LOVE with Jacob and was torn for Edward because I knew how deeply he loved her. The ending played out extremely well. That to me was perfect, because I wanted both guys to be happy, and Ms. Meyer figured out the perfect solution to make it happen. My current fav love triangle is Tucker and Christian from the Unearthly series...I haven't read the third book and I'm the minority in this, but I want Clara to realize she belongs with Christian. Usually, the girl sticks with the guy she first falls in love with, I hope this time it's different, but, I have a feeling that I'm not wrong here. A part of me is afraid to start the book for that very reason. Oh well, we'll see how it plays out.
The Punchline
Love triangles add a certain flare to any good book! I love any well-executed love triangle.

I think it's great to have a good love triangle. I enjoy going back and forth in the book between boyfriends, getting mad, happy, and sad, with the main character. I get the happiness, and the angst the author is portraying, and scream out loud, "No, don't do it!!!" Other times I'm yelling, "Yes, Yes, Yes!" It's hilarious in my house, when I'm reading a great love triangle. In the Untouchable Series, there was a great love triangle between Micah, Annalisa, and Ryan. Wow, the excitement was never ending! Thrills galore, and the fact that Annalisa, (Leese) is sleeping in another man's bed for comfort, but eventually ends up feeling things she doesn't want to allow herself to feel, was over the top. Leese is a beautiful blond, innocent (to a fault), girl next door, with the voice of an angel. Ryan was great looking, well built, had beautiful blue eyes, and one of a kind. He was head over heels for Leese, would do anything for her at any cost, even chancing losing his girlfriend. Micah, is the all powerful hit man, full of rage and anger, penetrating green eyes, a body to die for, with abs for miles, and loves Leese with all his heart and soul, but doesn't know how to trust in his relationship enough to love unconditionally. This was a roller coaster of a ride, a thrill a minute, and undeniably one of the best series, with a love triangle, ever!