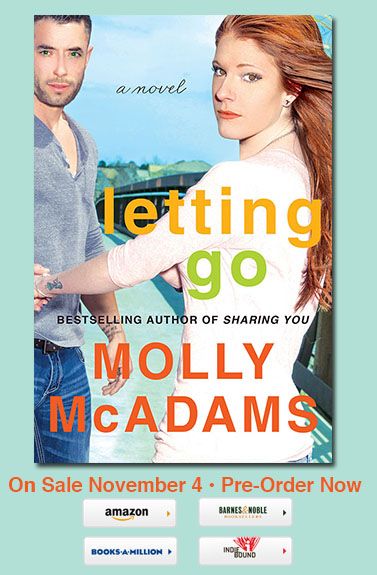 Letting Go
Thatch, #1
by
Molly McAdams
Release Date:
November 4th, 2014
Publisher:
William Morrow Paperbacks
Genre:
New Adult
Contemporary Romance
Add to
Goodreads
Synopsis:
When Grey and Ben fell in love at thirteen, they believed they'd be together forever. They never dreamed that three days before their wedding, twenty-year-old Ben would suddenly die from an unknown heart condition, destroying his would-be-bride's world. Grey would have spent the next two years simply going through the motions if it hadn't been for their best friend, Jagger. He's the only one who understands her pain ... the only one who knows what it's like to force yourself to keep moving when your dreams are shattered.
While everyone else worries over Grey's fragility, Jagger is the only one who sees her strength, and vows to always be there for her-even if it's only as her best friend. As much as he wants Grey, he knows her heart will always be with Ben. But when Grey finds out that Jagger has loved her since before he even knew what love was, it might prove to be too much for her to handle.
Grey soon realizes their chemistry is undeniable, and they learn that admitting their feelings for each other means they've got to face the past. Is being together what Ben would have wanted . . . or a betrayal of his memory that will eventually destroy them both?
About the Author
Molly grew up in California but now lives in the oh-so-amazing state of Texas with her husband and furry four-legged daughters. When she's not diving into the world of her characters, some of her hobbies include hiking, snowboarding, traveling, and long walks on the beach … which roughly translates to being a homebody with her hubby and dishing out movie quotes. She has a weakness for crude-humored movies and fried pickles, and loves curling up in a fluffy comforter during a thunderstorm ... or under one in a bathtub if there are tornados. That way she can pretend they aren't really happening.