Release Date:
July 1st, 2014
Genres:
New Adult/Contemporary Romance
Publisher:
William Morrow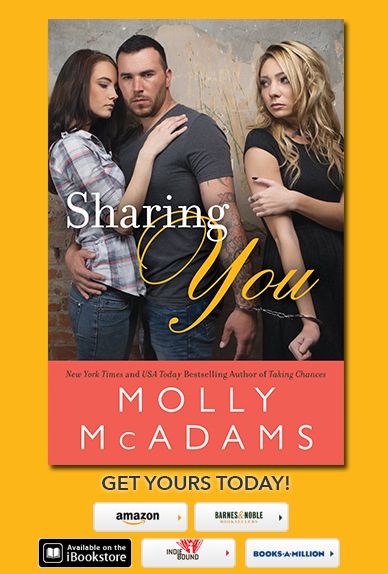 Synopsis:
Twenty-three year old, Kamryn Cunningham has left all she's ever known and moved to a small town where no one knows her name, who her parents are, or her social status in the horseracing world. Months after opening her own bakery and evading attempts of being set up by her new best friend, she meets Brody. Kamryn fights the instant pull between them because there's a detail she can't dismiss. Brody's married.
To say that twenty-six year old, Brody Saco has had a rough marriage would be an understatement. After marrying his pregnant girlfriend, he spends the next six years in a relationship filled with hatred, manipulation and guilt involving a tragedy that happened five years earlier. When he keeps running into his sister-in-law's best friend, Kamryn, he can't ignore that she makes him feel more with just one look than his wife ever has; and soon he can't continue fight his feelings for her.
When staying apart proves to be too difficult, Brody and Kamryn enter a relationship full of stolen moments and nights that end too soon while they wait for Brody to file for divorce. But the guilt that comes with their relationship may prove to be too much for Kamryn, and Brody might not be strong enough to face the tragedy from his past in order to leave his conniving wife.
Sharing You Series
Capturing Peace
(Sharing You, #0.5)
Sharing You
(Sharing You, #1)
Sharing You Excerpt:
Part 2
The force of his kiss surprised me and a high-pitched moan slipped from my chest. Brody laughed softly as one of his hands left my hip and went to my back and under my shirt, his hand leaving a trail of fire on my skin.
Turning us so the backs of his legs were hitting the couch, I pushed back and followed him down, planting myself on his lap and stifling another moan when our new position had his erection pressing against me. Brody brought our mouths back together and when I rocked against his hard length, he took my bottom lip between his teeth and tugged gently. When he released me, I sat up straighter so my chest was directly in front of his face and went back to rolling my hips against him.
With a growl, he leaned forward and pulled the stretchy material of my tank top down to free my breasts and sucked one nipple into his mouth. I whimpered when he bit down before resuming his torturous licking; when my eyes were finally able to flutter open again, I looked down to see him looking up from under his dark eyelashes and goose bumps covered my body at the sight. It was strangely erotic and I couldn't stop watching him tease my nipple now that I'd started. The hand that wasn't caressing my breast was gripping my hip and I reached down to slide his fingers under the thin material of my shorts.
He released my breast with a soft pop and brought my face to his, staring intently in my eyes.
"You sure you're okay with this?"
I sat up on my knees, giving him better access, and leaned in to whisper, "I was stupid to think we could take it slow." I pressed my lips softly to his once, but didn't move away. "Don't leave tonight, Brody, please. Stay with me."
His response was to kiss me deeply while his fingers moved to stroke along my soft folds.
"Christ, Kamryn," he groaned, and slid one long finger deep inside me as his thumb rubbed against my clit, and I couldn't stop the whimper that bubbled from my lips from having him touch me like this. I ground my hips against his hand as he continued to move his fingers in a way I'd never experienced with Charles, not that Charles and I hadn't done numerous sexual activities, but he was always pushing for the ones that benefited him, and sex with him didn't last long; so more often than not, I ended up frustrated or excusing myself to the bathroom to finish myself. The muscles low in my stomach tightened, and my entire body was warming, I was close to begging him not to stop when he slipped a second finger inside and my body exploded. Hard. My head fell back as a breathy cry left me and I rode out wave after wave of the most intense orgasm I've ever had.
His fingers didn't still, but softened and slowed as he pressed his lips against my throat. "You're so beautiful."
Bringing my head back down, I rested my forehead against his as I fumbled with the zipper and button on his uniform pants, my hands were shaking so much from the after effects of my orgasm it took two tries just to pull the zipper down; but the moment I finally succeeded, Brody's hand left my shorts and his large fingers curled around my wrists.
Brody Saco
aka "the top of the triangle"
Oh, Brody, Brody, Brody. #Swoon (hopefully you'll be saying the same thing when you read Sharing You) Brody is a character you might want to shake, but you can't help but falling in love with. He's been married to a woman for six years, but he fell out of love with her long before they married, and he's more than positive that his wife never loved him. By trying to do the right thing by her, he ended up entering into a life that would slowly break him. His spirit, his fire for life, pretty much everything that makes Brody Brody has been dying since he married Olivia Reynolds. But he feels responsible for her, he feels like he owes it to her to take care of his wife who is only a shell of the girl he fell in love with in high school, and what kind of a man would he be if he left her? So every day he goes home to where his wife may or may not be, and stays on his side of the house to avoid her unless she's having one of her psychotic fits ... we'll call them "episodes" for now … and tries to remain calm as she blows through every dollar he makes as a police officer.
Despite how it sounds, Brody isn't spineless. Something happened soon after they married that was enough to break him completely, and it had nothing to do with his wife—Olivia is just the added daily push. If you read Capturing Peace, you already know what that event was, if you haven't … well you'll find out quickly in Sharing You. On one of the very rare days that he's able to get away from his wife to hang out with his brother and sister-in-law, he bumps into a girl who makes him feel alive for the first time in five years. A girl who makes him want to live, period. After running into her at random places, and thinking about nothing but her, he caves and goes to her bakery to find out what exactly it is about the girl.
He quickly finds out that life without Kamryn isn't a life at all, and knows that without a doubt, he'll do anything to be with her. It kills Brody that Kamryn is suffering through their relationship because of his marital status, but Brody quickly learns that leaving Olivia isn't as easy as trying to find her help and filing for divorce—and he'll do everything to keep the drama with his wife away from the woman he loves. Now that he's paying attention rather than avoiding her, it's evident that Olivia's episodes are nothing more than the best pranks she's ever pulled … and now he's being threatened to stay with her. Brody never stops trying to find a way out of his manipulative marriage, but as time goes on, Kamryn starts to second-guess everything about their relationship since all she knows is that Brody is still married. And Brody's constant fight to get away from Olivia and her family for a future with Kamryn, may prove to be too much when his world seems to come crashing down around him.
Molly's Daily Question:
What about Brody's tug-o-war between a powerful family and the woman he loves are you looking forward to seeing the most in Sharing You?
Molly will be chatting with her fans about love triangle, cupcakes, and her AMAZING books
on Wednesday, 7/2, from 3-4PM ET,
About the Author
Molly grew up in California but now lives in the oh-so-amazing state of Texas with her husband and furry four-legged daughters. When she's not diving into the world of her characters, some of her hobbies include hiking, snowboarding, traveling, and long walks on the beach … which roughly translates to being a homebody with her hubby and dishing out movie quotes. She has a weakness for crude-humored movies and fried pickles, and loves curling up in a fluffy comforter during a thunderstorm ... or under one in a bathtub if there are tornados. That way she can pretend they aren't really happening.