Release Date:
July 1st, 2014
Genres:
New Adult/Contemporary Romance
Publisher:
William Morrow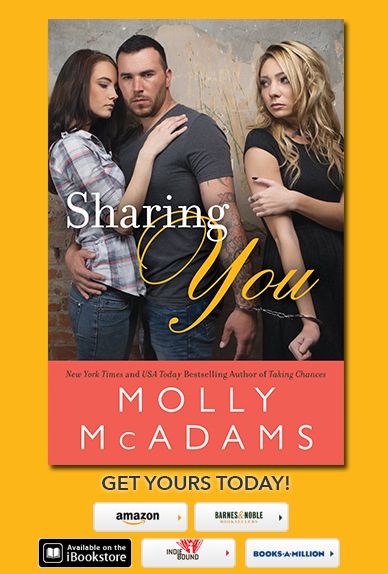 Synopsis:
Twenty-three year old, Kamryn Cunningham has left all she's ever known and moved to a small town where no one knows her name, who her parents are, or her social status in the horseracing world. Months after opening her own bakery and evading attempts of being set up by her new best friend, she meets Brody. Kamryn fights the instant pull between them because there's a detail she can't dismiss. Brody's married.
To say that twenty-six year old, Brody Saco has had a rough marriage would be an understatement. After marrying his pregnant girlfriend, he spends the next six years in a relationship filled with hatred, manipulation and guilt involving a tragedy that happened five years earlier. When he keeps running into his sister-in-law's best friend, Kamryn, he can't ignore that she makes him feel more with just one look than his wife ever has; and soon he can't continue fight his feelings for her.
When staying apart proves to be too difficult, Brody and Kamryn enter a relationship full of stolen moments and nights that end too soon while they wait for Brody to file for divorce. But the guilt that comes with their relationship may prove to be too much for Kamryn, and Brody might not be strong enough to face the tragedy from his past in order to leave his conniving wife.
Sharing You Series
Capturing Peace
(Sharing You, #0.5)
Sharing You
(Sharing You, #1)
Sharing You Excerpt:
Complete
My phone started ringing as I stepped out of the shower, and I hurried to dry off before running to the nightstand. A wide smile crossed my face when I saw his name on the screen.
"Hey! I didn't think you were going to call."
Brody had come over the last two nights as well, but we were both worried about pushing our luck with a fourth. Even though I hated not knowing when we would get to see each other, or even talk again, the surprise of hearing from him almost made it worth it.
"Can I come over?" he asked hurriedly.
I frowned and glanced at my phone quickly before bringing it back to my ear. "Of course, are you okay?"
"I am, I just need to see you."
My smile came back and I took off for the door leading to the garage. "Okay, I'll have the garage door opened, and the other one unlocked. Just come in."
Running back to my bathroom, I threw the towel on the floor and brushed my teeth, cutting it short when I heard the door shut.
"Kam?" his deep voice called from the front of my condo.
"
Shit!" I hissed, and rinsed out my mouth before running to my room. "Be out in a sec!" Throwing on the first tank top and shorts my hands touched, I took a few seconds to settle my breathing before walking calmly out to meet him.
He already had his shirt and vest off, and the way his dark eyes raked over my body had my stomach heating. There was a determined look on his face as he took long steps to meet me, and just before we got to each other, he shook his head and said, "I can't do 'slow' anymore."
His arms went around me, and he brought his mouth down to mine. The minute our lips touched, something in me ignited, and a small groan came from Brody when I opened my mouth to him and his tongue met mine. His large hands slid down my sides, his thumbs barely grazing the side of my breasts before continuing down to rest on my hips, pulling me closer to him. I let the tips of my fingers trail down his chest until I hit the bottom of his undershirt and lifted, letting him finish taking it off and dropping it on the floor.
"If you want to stop, you need to say it now."
"I'm not saying anything," I whispered against his lips.
I couldn't. We'd agreed to go slow, but nothing about what we were doing was normal. Even though we'd kept the last three nights pretty chaste, the charge between us had been growing steadily, and we'd been in some sort of unspoken agreement that it was getting too hard to stay away from each other. Both silently moving away from each other when the electricity between us grew, both pulling away breathlessly from kisses that had our resolve quickly slipping.
Just before his mouth slammed down on mine, he mumbled, "Thank God."
The force of his kiss surprised me and a high-pitched moan slipped from my chest. Brody laughed softly as one of his hands left my hip and went to my back and under my shirt, his hand leaving a trail of fire on my skin.
Turning us so the backs of his legs were hitting the couch, I pushed back and followed him down, planting myself on his lap and stifling another moan when our new position had his erection pressing against me. Brody brought our mouths back together and when I rocked against his hard length, he took my bottom lip between his teeth and tugged gently. When he released me, I sat up straighter so my chest was directly in front of his face and went back to rolling my hips against him.
With a growl, he leaned forward and pulled the stretchy material of my tank top down to free my breasts and sucked one nipple into his mouth. I whimpered when he bit down before resuming his torturous licking; when my eyes were finally able to flutter open again, I looked down to see him looking up from under his dark eyelashes and goose bumps covered my body at the sight. It was strangely erotic and I couldn't stop watching him tease my nipple now that I'd started. The hand that wasn't caressing my breast was gripping my hip and I reached down to slide his fingers under the thin material of my shorts.
He released my breast with a soft pop and brought my face to his, staring intently in my eyes. "You sure you're okay with this?"
I sat up on my knees, giving him better access, and leaned in to whisper, "I was stupid to think we could take it slow." I pressed my lips softly to his once, but didn't move away. "Don't leave tonight, Brody, please. Stay with me."
His response was to kiss me deeply while his fingers moved to stroke along my soft folds. "Christ, Kamryn," he groaned, and slid one long finger deep inside me as his thumb rubbed against my clit, and I couldn't stop the whimper that bubbled from my lips from having him touch me like this.
I ground my hips against his hand as he continued to move his fingers in a way I'd never experienced with Charles, not that Charles and I hadn't done numerous sexual activities, but he was always pushing for the ones that benefited him, and sex with him didn't last long; so more often than not, I ended up frustrated or excusing myself to the bathroom to finish myself. The muscles low in my stomach tightened, and my entire body was warming, I was close to begging him not to stop when he slipped a second finger inside and my body exploded. Hard. My head fell back as a breathy cry left me and I rode out wave after wave of the most intense orgasm I've ever had.
His fingers didn't still, but softened and slowed as he pressed his lips against my throat. "You're so beautiful."
Bringing my head back down, I rested my forehead against his as I fumbled with the zipper and button on his uniform pants, my hands were shaking so much from the after effects of my orgasm it took two tries just to pull the zipper down; but the moment I finally succeeded, Brody's hand left my shorts and his large fingers curled around my wrists.
"I don't have condoms." He looked to the side and blinked a few times, his brow furrowed. "God I can't even remember the last time I bought any."
Brody's hands preventing me from continuing only made me want this more. I flexed my fingers and knew that this stop was a good thing, something we should probably take advantage of. But I didn't care. "Are you clean?" I asked softly.
I nodded. "And I'm on the pill."
I'd barely finished my sentence before Brody had both of us off the couch, my legs around his hips, and was walking. "Room, Kamryn, where is it?"
"Down the hall, last door on the right."
His mouth captured mine again as he turned toward the hall and began taking long strides. Not two feet from the opening his pants fell the rest of the way down and Brody tripped, sending us crashing into the wall. Our kisses never faltered, even throughout our laughing, but I unwrapped my legs from his hips as he hurriedly stepped out of his boots and pants. When he kicked them to the side, he grabbed the backs of my thighs and pressed his hard on against me as I wrapped my legs back around him.
"Bed … bed," I pleaded around his lips, and once again he was walking us toward my room.
We made it the rest of the way without incident, and fell in a mess of searching hands, and tearing clothes onto the bed. My tank was somehow on the floor before I was fully on my back and I reached up to crush our lips together as his hands pulled my sleep shorts off at the same time I reached for the waistband of his dark boxer briefs.
His erection sprang free, and I didn't even try to continue pulling his briefs down the rest of the way as I took his length in both of my hands. Brody groaned and his head fell to my shoulder as I watched both hands make their way up him. Letting one of my hands leave to edge the waistband down his hips, the other slowly pumped from base to head, and I couldn't take my eyes off him. Everything about him was incredible and perfect.
"Babe—I haven't been with anyone in years, so this already isn't going to last long; but if you keep doing that it's gonna be over before it can begin."
I bit back a smile at his confession and leaned my head back when he started leaving open-mouthed kisses on my neck, and guided him to me. We both stilled for a few seconds, a harsh breath leaving him when he pushed into me; and I wanted to cry in frustration when his body left mine before he was slamming back into me. His name left my lips in a breathless whisper when he began moving inside me, and my fingers curled into his back as his pace quickened.
I could feel the muscles in his back tightening, and the pull in my lower stomach grew as I reached my climax.
"Come on," his gruff voice whispered in my ear. "Give me one more."
Bringing his hand between us, he rolled his fingers against my clit and I whimpered incoherent words as the mix of him moving inside me, and his hands on me, sent me over the edge. It felt like my body was suspended in air for long seconds before it came crashing down and Brody's body shuddered beneath my fingertips as he followed me into his own orgasm.
Brody lazily kissed up my throat until he reached my lips, and I figured out how to release my death grip on his back to pull my hands through his dark hair as I returned the slow kiss.
"God, Kamryn. I don't think I'll ever be able to get enough of you. Not after that."
I smiled against his lips, and feeling his hard length still inside me, pushed him back and rolled us over until I was on top of him. He groaned when I moved my hips, his hands flying back to grab them. I'd been afraid he was about to stop me, but his fingers flexed against my skin before pressing me harder against him. Sitting up, I let him lead our movements, and my head fell back from the feel of the new position. This time was slow and controlled as we took our time getting to know each others body, but the heat and passion only seemed to grow.
My body curled over his, and I pressed my forehead into his chest when it was over. Every part of me felt like it was floating, and at the same time, I couldn't find the strength to move from where I was laying on him.
"Come here," he said as he pulled his body from mine and wrapped his arms around me.
Pressing a kiss to my lips, he tucked my head under his chin and messed with the comforter until he could pull it over us.
"You'll stay?" I asked as I pressed closer to him.
"I need you in my arms right now," he said simply. And just before sleep claimed me, I heard him say, "I'm not going anywhere."
My body jerked awake, and I stilled as I listened for whatever had woken me. Brody was now behind me with his body curled around mine, and the sound of his soft snores was all that met my ears for a few moments. Closing my eyes, I relaxed into the pillow again when I heard the ringing. Moving from Brody's arms, I glanced around for my phone, but didn't see it and remembered I'd left it in the bathroom, and this was coming from outside my room. Grabbing for the pants that were on the floor of my hallway, I searched the pockets until I found Brody's phone, and my body turned to ice when I saw the screen.
"Brody," I said as I climbed back on the bed and shook his shoulder. "Brody wake up."
His eyes shot open and moved quickly to the phone I was holding out to him. "What—"
"Fuck," he whispered, and pinched the bridge of his nose as he turned to his back. Taking the phone from my hand, he cleared his throat a couple times and answered. "Hello?"
"Where the hell are you? Do you know what time it is?"
I didn't need to be sitting directly next to him to hear her. I'm positive I would've been able to hear her shrill voice if I'd been back in the hall.88 Glancing at his phone for a second, his aggravated expression never changed as he brought the phone back to his ear. "Yeah, Liv, I got caught up at work."
"And you couldn't call to tell me?"
"You said you'd be staying with your parents if you got back from Washington tonight, I didn't know it would matter to you if I was late or—shit, Liv. Why … fuck, why are you crying?"
"Well, obviously I'm not at my parents', Brody! I thought something had happened to you, you know, I'm trying to be a good wife here. And you are hours late and don't even think to—" she cut off on a sob.
Brody's hand fell over his face, and his head gently shook back and forth. "All right, I'm sorry. You're right, I should have called you."
"Come home, please. Please, come home."
My body locked up when I heard her desperate plea, and I watched as Brody's hand moved, and he turned his head to look at me. Even in the dark I could see the war he was fighting as he listened to his wife cry on the phone, and watched my every move.
Olivia said something that was now too low and mumbled for me to hear, but Brody's expression suddenly looked like he was in pain.
"I'm finishing up a report, I'll be back soon." Without waiting for her to respond, he ended the call, and reached out for me, but I stopped his hand.
His jaw clenched shut, and he shook his head once. From the way his eyes studied my face, as if trying to memorize it, I knew he wouldn't. Twisting away, I got off the bed. I needed to get away from him before I lost it.
"Kamryn, don't do this, I'm sorry. But you know I—"
"I know. You have to leave, Brody, it's fine." I quickly grabbed at my clothes on the floor and dashed into the bathroom.
Once my clothes were on, I pressed my hands to the marble counter as I bit down on the inside of my cheeks to keep from crying. I'd gone into our relationship knowing we wouldn't be able to have this—have nights together with nothing standing in the way—but after the night we'd just shared, I'd let myself hope.
Having Olivia call had been like a slap to the face. I couldn't do this, I couldn't be this person. But as Brody came up behind me and eased his arms around me to press our bodies together, I knew that for this man … I would. I would go through anything if it meant he was mine in the end.
"I'm so sorry," he said softly before pressing his lips to the sensitive spot behind my ear. "Please don't be mad, I couldn't handle it if you were."88 I kept my eyes trained on my hands gripping the countertop and nodded, not trusting my voice anymore.
"One day … one day we won't have to do this anymore. I'll come home to you, and get in our bed and never leave. I swear."
My vision went blurry and I closed my eyes tightly against the tears.
How was it possible that I was already falling so hard for this man, that the thought of him anywhere but beside me had me feeling like I was drowning and unable to pull in the air my body needed to live? I was quickly becoming addicted to him, and the way he made me feel with the smallest of touches. We were dangerous together, but I knew I couldn't live without him.
"Forgive me," he pleaded, and suddenly his body and warmth were gone. And as much as my mind and body screamed at me to follow him, to beg him not to leave, I was rooted in place for long minutes until I heard my door shut, and his car start up in the garage.
Taking shaky steps back until I hit a wall, I slid down until I was seated on the cool floor, and the tears I'd been holding back fell mercilessly as desperate sobs worked their way from my chest.
Sharing You:
Why I wrote about a taboo subject
When I decided to write this story, I had people telling me not to. I had a lot of: "Uhh … are you sure you want to write about that?" "Maybe you should consider something else…" and "No, no. Absolutely not. Women will hate you."
Well, considering I already had a lot of women mad at me over a certain male character and a scene that shall not be named in chapter 13 of a certain book … I was willing to have them hate me all over again. I don't want to just write stories that will please people. I want to write real life. And Sharing You is real life.
Sure, we hear stories of cheating, and automatically we curl our lips at the thought. "How could he/she?" "What a home-wrecker." "Poor (insert name here)." It's the automatic thoughts that go through our heads, right? I know it's what goes through my head every time. And it's what went through my head when my husband told me about his work partner and his girlfriend I would be meeting that night. I'm pretty sure I yelled "What?!" really loud, said a few no ways, and had a disgusted look on my face. I was determined not to meet the girlfriend, and to forever hate my husband's partner.
I had my arms crossed and a scowl on my face the entire drive to the restaurant, I was mumbling to myself, and I asked my husband how he could be so okay with it about fifty some odd times. And then I met them … and everything that had been going through my mind suddenly shifted. Now, before I continue, I should probably say I do not condone cheating. I feel like if you would cheat on your significant other, you should leave them before you do something with another person. But I could not help but get captured in a moment with this couple. I have quite literally never seen a couple more perfect for each other.
We started hanging out with them more and more, and one night, the girlfriend—we'll call her "S"—told me all about her story with "R". From the very beginning, to where they were at that point. It was heartbreaking, I cried with her, and I felt every emotion pouring from her over to me. I listened to the heartache they went through to be together, and witnessed how much this had taken a toll on them. I loved their story. Still wasn't a fan of the cheating … but their love for each other … that's what I loved. I was able to witness them finally getting married, and it is the only time I've been so moved by a wedding other than my own. R & S belong together, and that's why I asked if I could write their story.
Because sometimes it's not as easy as just blaming the "other woman". Sometimes there are other things that come into play that we may not see/hear about. Like a very bad marriage that you feel trapped in. Sometimes the people who are suffering the most are, in fact, the ones cheating. My hope is that you can see that, and see why I decided to write their story despite the hard topic.
Molly's Daily Question:
Do you think that it is worth it to fight for your forever with the person you are meant to be with, no matter the cost?
About the Author
Molly grew up in California but now lives in the oh-so-amazing state of Texas with her husband and furry four-legged daughters. When she's not diving into the world of her characters, some of her hobbies include hiking, snowboarding, traveling, and long walks on the beach … which roughly translates to being a homebody with her hubby and dishing out movie quotes. She has a weakness for crude-humored movies and fried pickles, and loves curling up in a fluffy comforter during a thunderstorm ... or under one in a bathtub if there are tornados. That way she can pretend they aren't really happening.