Release Date:
July 1st, 2014
Genres:
New Adult/Contemporary Romance
Publisher:
William Morrow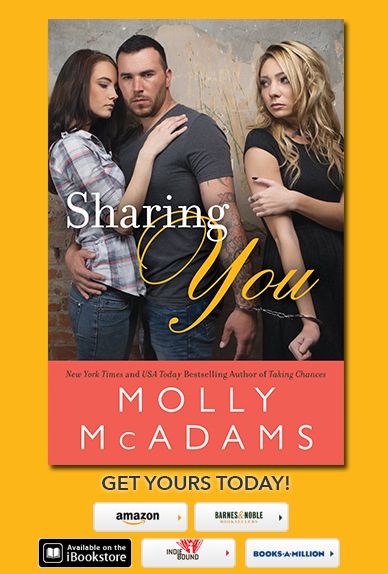 Synopsis:
Twenty-three year old, Kamryn Cunningham has left all she's ever known and moved to a small town where no one knows her name, who her parents are, or her social status in the horseracing world. Months after opening her own bakery and evading attempts of being set up by her new best friend, she meets Brody. Kamryn fights the instant pull between them because there's a detail she can't dismiss. Brody's married.
To say that twenty-six year old, Brody Saco has had a rough marriage would be an understatement. After marrying his pregnant girlfriend, he spends the next six years in a relationship filled with hatred, manipulation and guilt involving a tragedy that happened five years earlier. When he keeps running into his sister-in-law's best friend, Kamryn, he can't ignore that she makes him feel more with just one look than his wife ever has; and soon he can't continue fight his feelings for her.
When staying apart proves to be too difficult, Brody and Kamryn enter a relationship full of stolen moments and nights that end too soon while they wait for Brody to file for divorce. But the guilt that comes with their relationship may prove to be too much for Kamryn, and Brody might not be strong enough to face the tragedy from his past in order to leave his conniving wife.
Sharing You Series
Capturing Peace
(Sharing You, #0.5)
Sharing You
(Sharing You, #1)
Sharing You Excerpt:
Part 1
My phone started ringing as I stepped out of the shower, and I hurried to dry off before running to the nightstand. A wide smile crossed my face when I saw his name on the screen.
"Hey! I didn't think you were going to call."
Brody had come over the last two nights as well, but we were both worried about pushing our luck with a fourth. Even though I hated not knowing when we would get to see each other, or even talk again, the surprise of hearing from him almost made it worth it.
"Can I come over?" he asked hurriedly.
I frowned and glanced at my phone quickly before bringing it back to my ear. "Of course, are you okay?"
"I am, I just need to see you."
My smile came back and I took off for the door leading to the garage. "Okay, I'll have the garage door opened, and the other one unlocked. Just come in."
"Be there soon."
Running back to my bathroom, I threw the towel on the floor and brushed my teeth, cutting it short when I heard the door shut.
"Kam?" his deep voice called from the front of my condo.
"Shit!" I hissed, and rinsed out my mouth before running to my room. "Be out in a sec!"
Throwing on the first tank top and shorts my hands touched, I took a few seconds to settle my breathing before walking calmly out to meet him.
He already had his shirt and vest off, and the way his dark eyes raked over my body had my stomach heating. There was a determined look on his face as he took long steps to meet me, and just before we got to each other, he shook his head and said, "I can't do 'slow' anymore."
His arms went around me, and he brought his mouth down to mine. The minute our lips touched, something in me ignited, and a small groan came from Brody when I opened my mouth to him and his tongue met mine. His large hands slid down my sides, his thumbs barely grazing the side of my breasts before continuing down to rest on my hips, pulling me closer to him. I let the tips of my fingers trail down his chest until I hit the bottom of his undershirt and lifted, letting him finish taking it off and dropping it on the floor.
"If you want to stop, you need to say it now."
"I'm not saying anything," I whispered against his lips.
I couldn't. We'd agreed to go slow, but nothing about what we were doing was normal. Even though we'd kept the last three nights pretty chaste, the charge between us had been growing steadily, and we'd been in some sort of unspoken agreement that it was getting too hard to stay away from each other. Both silently moving away from each other when the electricity between us grew, both pulling away breathlessly from kisses that had our resolve quickly slipping. Just before his mouth slammed down on mine, he mumbled, "Thank God."
What, oh what is there to say about Kamryn? She's a whole lot of everything compacted into one. Kamryn grew up in a world that she hated—a world full of labels, money, power-hungry people, and couples who are together only for status. With the high status of her family, she didn't have many options on straying from this world. Things were expected of her, her life was planned out pretty much from day one, and those she loved most were used against her as a way of keeping her on her perfectly planned path. So she did the only thing she could do, she disappeared. After years of planning, she took off, changed her look, moved across the country, and opened the bakery she'd always wanted.
Even with her new best friend constantly trying to set her up, she stays away from men. She wants to just be herself, enjoy this time where she's doing what she wants, and focus on baking. She isn't the kind of girl who needs a man, and after the train wreck of a forced relationship back home, she'd prefer not to have one at all! But then she meets Brody—her best friend's brother-in-law.
Kamryn's heard about Brody and the horrible marriage he's in. His entire family is constantly on him, trying to get him to divorce the woman who has single-handedly ruined his life—Olivia. And as the story goes deeper, Kamyrn finds out more and more about Olivia, sees how she's slowly taking away all that is Brody, and learns why Brody has stayed with his manipulative wife through the years. Despite what Kamryn has heard, she knows better than anyone that there can be underlying reasons for staying with someone you don't want or love, and it doesn't change the fact that he's married. Kamryn tries to stay away from him … she tries not to think about him. But neither of those are as easy as they should be, as they have been. Everything in her calls to Brody. It was as if she'd been living in the dark until she met him, and it's hard going back to the dark when she's craving the one man who can put light in her life. Even more when the man seeks her out, begging her to help him understand what this attraction between the two of them means.
But loving someone who belongs to another woman is painful—even if his marriage died five years ago. And it's in that pain that we see, for the first time, Kamryn's struggle. A struggle of a girl who knows she is the other woman … a home wrecker. A girl who can't forget about Olivia even with the obvious hatred and issues between Brody and his wife. A girl who has grown up hating people who do exactly what she is doing. A girl who hates what she's doing. And a girl who, despite everything, is undeniably in love with a man who isn't hers.
Molly's Daily Question:
Have you ever met a guy who you felt like you needed him to breathe, only to find out that he was already taken?
Molly will be chatting with her fans about love triangle, cupcakes, and her AMAZING books
on Wednesday, 7/2, from 3-4PM ET,
About the Author
Molly grew up in California but now lives in the oh-so-amazing state of Texas with her husband and furry four-legged daughters. When she's not diving into the world of her characters, some of her hobbies include hiking, snowboarding, traveling, and long walks on the beach … which roughly translates to being a homebody with her hubby and dishing out movie quotes. She has a weakness for crude-humored movies and fried pickles, and loves curling up in a fluffy comforter during a thunderstorm ... or under one in a bathtub if there are tornados. That way she can pretend they aren't really happening.