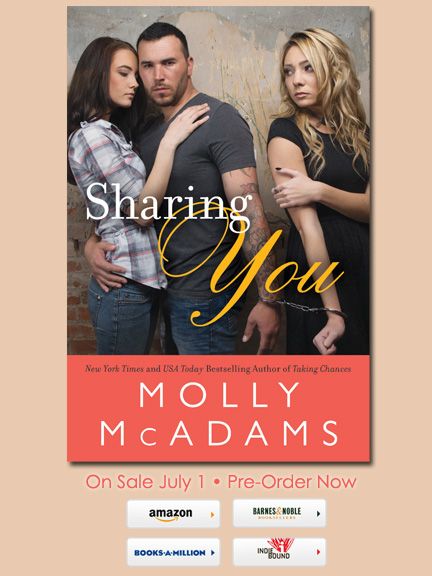 SHARING YOU
by Molly McAdams
On-sale 7/1/14 | ISBN: 9780062299406
Twenty-three year old, Kamryn Cunningham has left all she's ever known and moved to a small town where no one knows her name, who her parents are, or her social status in the horseracing world. Months after opening her own bakery and evading attempts of being set up by her new best friend, she meets Brody. But Kamryn fights the instant pull between them because there's a detail she can't dismiss. Brody's married.
To say that twenty-six year old, Brody Saco has had a rough marriage would be an understatement. After marrying his pregnant girlfriend, he spends the next six years in a relationship filled with hatred, manipulation, and guilt involving a tragedy that happened five years earlier. When he keeps running into his sister-in-law's best friend, Kamryn, he can't ignore that she makes him feel more with just one look than his wife ever has; and soon he can't continue fight his feelings for her.
When staying apart proves to be too difficult, Brody and Kamryn enter a relationship full of stolen moments and nights that end too soon while they wait for Brody to file for divorce. But the guilt that comes with their relationship may prove to be too much for Kamryn, and Brody might not be strong enough to face the tragedy from his past in order to leave his conniving wife.