Happy Release Day to
Heidi McLaughlin
and her new book
SAVE ME
. This is the highly anticipated book about Tucker McCoy. Will he #FindHisFamily? Read the book and find out! Enter the
giveaway
below for a chance to win a
$100 Amazon Gift Card
- Good luck!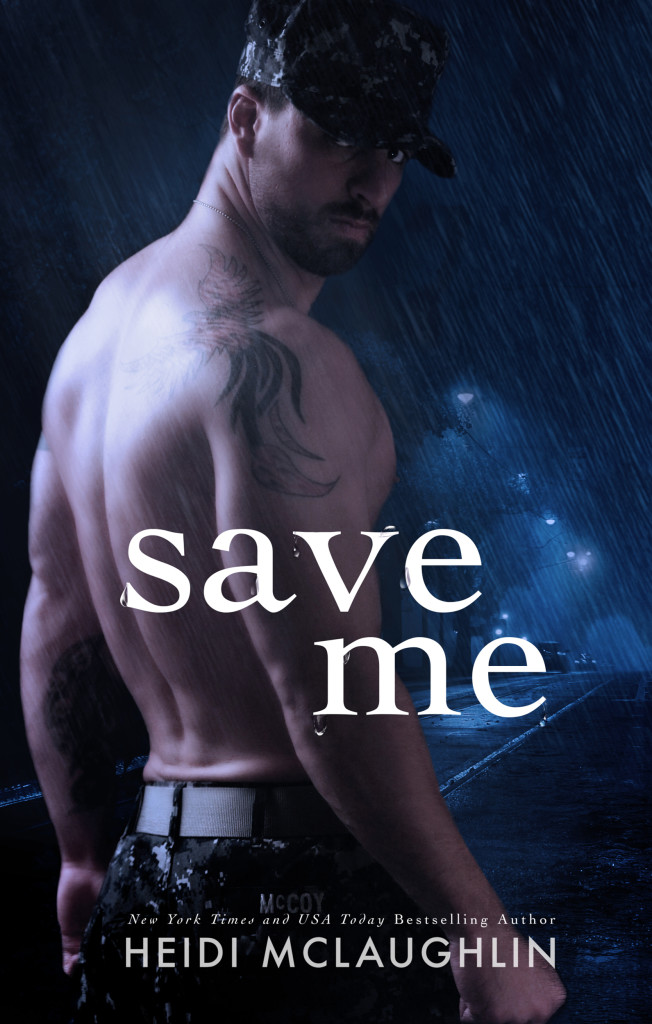 Save Me
The Archer Brothers, #3
by
Heidi
McLaughlin
Release Date:
April 5th, 2016
Genres:
Military
Romance
RDB Hosted by:
Shh Mom's Reading
Source:
Author via RDB Host
eARC
received in exchange of honest review
Tucker McCoy thought the hardest mission of his life was over. After being deployed for six years, all he wanted to do was return home to his wife and daughter. But when he arrives home with roses in his hand, the last thing he expects is to be welcomed by a stranger. Being presumed dead for six years doesn't help his cause as no one is giving him the answers he needs.
Now his mission is to find out where his family is and he's willing to do whatever it takes to bring them home, even if that means bringing down the people involved.
Penelope McCoy has a secret and one she's willing to keep until she can find someone to trust. In order to do that, she and her daughter must hide, change their identities and forget about their previous life.
For six years she's been runnin
g and she soon realizes that time is catching up with her. Now she has to decide whether to run again or face the ghosts of her past head on.
Having Penelope on my bike now, with her hands caressing my skin, even if she's not meaning to, makes me realize that I like her there. I'm enjoying the way her legs are pressed against my hips and the way her fingers graze my skin so innocently. Pulling off to one of the lookout points, I set both feet down and shut off my bike. "Watch," I instruct, pointing to the sky. Without hesitation, she rests her head on my shoulder and I instinctively lean into her. I like it. I like the way I'm feeling with her right now. She's here because she wants to be, not because of who I am. "What am I watching for?" "Birds." "It's dark, I can't see a bird in the dark. No one can." Realizing my mistake, I shake my head. "Fighter jets. They'll be coming to land in a second." "How do you know?" Because I wanted to be one until I found the SEALs. "When you live on base, you follow patterns." Before I can say anything else, two jets appear and align themselves for landing. "Are you a pilot?" "No, I'm not cool like that." "So what do you do?" Kill bad people. "I'm the guy who protects you while you sleep."
Watch the SAVE ME trailer
here
on
Heidi's FB page
Review:
The Archer Brothers Series has been on my TBR list forever! With the release of the third installment, Save Me, it was time to do a reading marathon and devour this military romance series. I don't read many military romance books. I have to admit that I did not know what to expect of this series. The first two books involved a love triangle and I had my doubts. I try to stay away from book with love triangles, but many of my book friends recommended this series and I wanted to try it. I'm so glad I did because Here With Me and Choose Me left me at the edge of my seat the whole time I was reading! Save Me can be read as a standalone, but after reading this series back-to-back, I highly recommend you read all of the books. These stories are memorable and they will linger with you for days!
Navy Seal Tucker McCoy has been away from home for six years. He's ready to go back home to his wife and his daughter. What he never expected was to find Penny and his daughter gone. After he learns about his "death", Tucker is in a race against time to find Penny and Claire. The dangerous people that kept him away from his family are lurking around waiting for the right moment to make their world crash down all over again. Tucker will do whatever it takes to find his wife and daughter and keep them safe once and for all. The bad guys have no clue what Tucker McCoy is capable of when it comes to the people he loves. Years of his life have been stolen and he won't rest until justice is made.
I really loved how the author wrote Penny and Tucker's story. It was important for me to know what was going on in both their lives and what they were feeling. Their dual POV delivered and even if it had a slow start before the action kicked in, I was invested in this story from the beginning. I needed answers after reading the first two books and I got them in Save Me. The author did a phenomenal job at resuming the first two books so that you can easily follow all the events in Save Me. My heart broke for Penny and Tucker just like it did for the characters that got caught in the mystery surrounding Evan, Tucker, River and Rask's mission. Justice needed to be served and I was happy with how everything played out. This would make such a fantastic movie! I was at the edge of my seat and I wanted Penny and Tucker to turn the page and have a well-deserved HEA.
My stomach was in knots for a good part of this reading journey. I was left speechless when I found out why Penny left with her daughter. My heart broke into a million pieces for this family. The more I read this story, the more it captivated me! I wanted to jump in the book and bring comfort to these characters. Some pretty twisted people have been lurking around them and danger is close now that Tucker and his friends are looking for Penny and his daughter.
This was an emotional and healing journey for Penny and Tucker. I loved the friendship that all these characters shared and how protective and strong they all are of their family and friends. Tucker did everything he could to keep his family safe once he found them. He's patient and kind and he loves Penny and his daughter with all of his heart and soul. Penny and Tucker were amazing characters to follow. I had an amazing time discovering all these wonderful characters and Heidi McLaughlin's phenomenal writing style took my breath away!
Rating:
I give, Save Me, by Heidi McLaughlin, 4.5 captivating, healing, emotional, powerful, edge of your seat, page-turning stars!
Heidi is a New York Times and USA Today Bestselling author.
Originally from Portland, Oregon and raised in the Pacific Northwest, she now lives in picturesque Vermont, with her husband and two daughters. Also renting space in their home is an over-hyper Beagle/Jack Russell, Buttercup, and their newest addition of a Highland Westie/Mini Schnauzer, JiLL.
During the day Heidi is behind a desk talking about Land Use. At night, she's writing one of the many stories planned for release or sitting courtside during either daughter's basketball games.